Right. So that was kind of a lame post yesterday. Sort of dry. Right?
I felt it was necessary, because what I really wanted to talk about is the fish chart, and how most management teams and investors don't like it at first.
The fish chart, just like its eatable counterpart, is an acquired taste.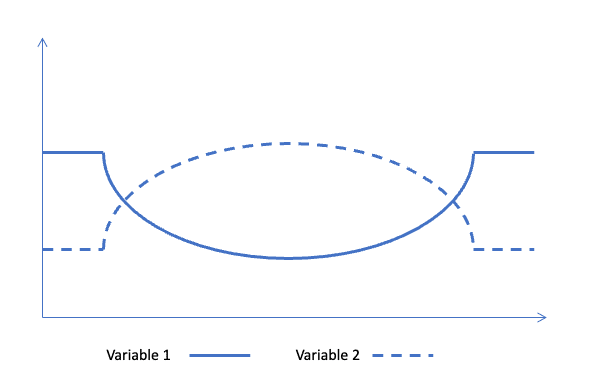 This particular shape happens when there are two aspects that need to work in parallel to make things happen, and is particularly common when facing a major transformation on how an organization does business. I know at least of two cases where this happens. And I don't just know, I have lived through them, and -oh boy- is the belly of the fish the most dreaded phase. The two business transformation cases are the following:
| | | | |
| --- | --- | --- | --- |
| What | Variable 1 | Variable 2 | Explain…please… |
| The Channel | Channel Revenue | Channel Enablement/Support | Businesses going through the transformation of being a traditionally direct-to-consumer business to go through the channel find themselves having to invest significant resources before they see the revenue from their channel pick up. |
| Customer Success | Renewals, expansion revenue | Customer success investment, CSMs, systems and tools, training | Businesses going through a "as a service" transformation have to make a considerable investment in resources, systems, and tools before they see the benefits of recurring revenue. |
In both cases above, Variable 1 is the one that the organization wants to optimize for. In the beginning they may not see the benefits right away, -on the contrary- they may see actually a drop with a descending trend. To make things worse, the level of investment (Variable 2) starts to climb as they continue on this path. It is the classic "it is going to get a lot worse before it gets better".
This is why many management teams and investors don't like to hear the truth, they want the hockey stick, the "up and into the right", and because of that, they shy (did I say shy? "run" is probably best) away from these transformative initiatives.
The worst part? The belly of the fish! That's the point where investment is at a maximum and expected returns are at the minimum. Got to be able to motor through that, because right after that, things start to improve. Yes, you can be smart about it, and mitigate the effects. Hold your nose while you eat that fish. Go by phases, in little 'bites". Put a lot of tartar sauce on it, but it will still be a fish.
So settled that. Not for the faint of hearth. But why do it? The answer is simple. Long term value. Both of these processes are flywheels, that once we get them to turn, they are hard to stop.