If you have anything to do with technology, you are most likely familiar with the "hypecycle" and how technologies, when being introduced at first are not taken into account, but as they start to get traction, and people get excited, they are usually overhyped. Most of the time this creates a gap between people's expectations and what the technology is effectively able to deliver. This gap, in turn, launches most of the public into the "Trough of disillusionment". People dismiss the technology as something that is not capable to deliver on the promises. This is the case of Bitcoin for example. The overhype predicted that most currencies in the world would be digital a few years after Bitcoin was launched. It didn't happened that fast, and because of that the general public finds Bitcoin to be a scam.
It is not Bitcoin's fault. It is the "Peak of Inflated Expectation"'s. But right now, Bitcoin has a Market Cap just short of $600B, which places it at (according to an article which is probably outdated already!) being the 20th most important currency in the world, right between Vietnam's and Singapore's and ahead of hundreds of other FIAT currencies. In other words, Bitcoin is about to reach the "Slope of Enlightenment".
So where is AI on this? Gartner's Hypecycle on AI was last updated in SEPTEMBER. That's ten months ago, which is a lifetime in thins field. "Generative AI" was just trying to make its way to the top. Right now, it looks like a mixed bag, I don't see an end in sight for more and more excitement, but I also see some people dismissing the technology.
Will Generative AI fall into the Trough of disillusionment anytime soon? Will this time be different?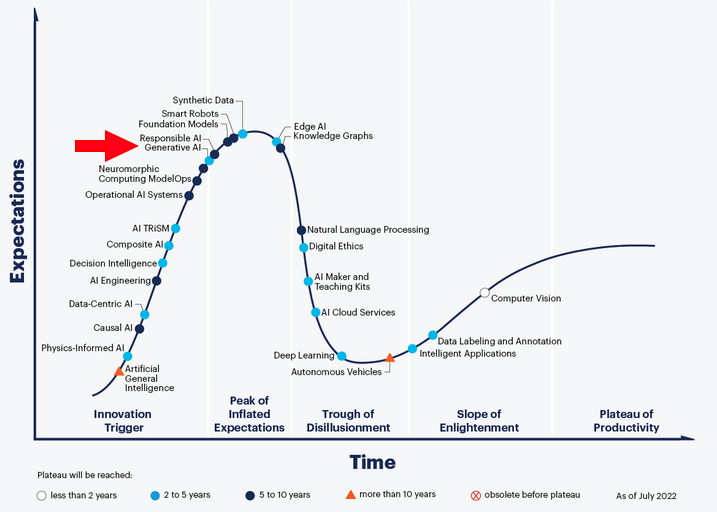 Source: https://www.gartner.com/en/articles/what-s-new-in-artificial-intelligence-from-the-2022-gartner-hype-cycle