So this may be old news for some of you guys. Especially because we are already at version 16 of iOS, and the previous version, iOS 15, was released in mid 2021. Although, there is a feature that was released with iOS 15 that -at least from my point of view- didn't get enough publicity. I am talking about "Live Text".
The reason why I think we should have given it more air time, is not because it is a huge technological advance, but because the way it has been implemented, tied into the operating system, is a big deal.
Before this feature was introduced, there was a clear difference between a text-based file, such as a PDF, or a Word document, and a picture of a document. No matter how good the resolution of our cameras, the second one was always just a collection of differently colored dots on a screen. The first one had a story to tell, some information that was encoded in it. The first one was searchable, the second wasn't.
Even though our smartphones have been able to write down speech, to be able to search and edit documents photographed, we needed clumsy pieces of software called OCR (optical character recognition) to do the translation. Our smartphones were basically illiterate, seeing scribbles on a page that meant nothing to them.
iOS15 changed all this, and if you haven't tried it before, I invite you to just take a picture of anything with text on it, and then try to select the text. There is even a little box on the bottom right corner that copies the whole content in one click.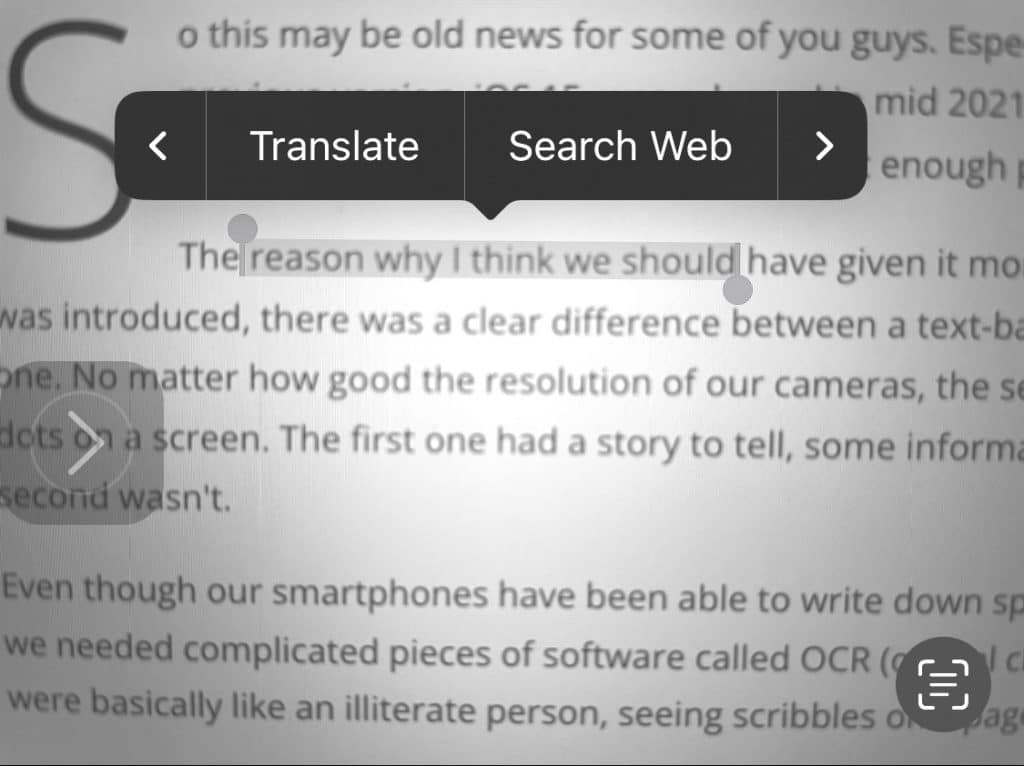 The iPhone, finally understands writing, and with OCR, we don't just get meaning, we also get cataloging, translating, and being able to look it up on the web. The brilliance is that by building this feature into the operating system, not only can we use it with any image, but the text in every image becomes searchable immediately after installing the upgrade.
I can't wait to see what else can we use this feature for. I draw a parallel to the "Improving the Civilian Global Positioning System (GPS)" moment, when on May 1st, 2000, then-President Bill Clinton signed an executive order, making Military-grade precision GPS data available for civilian use. That was the birth of turn-by-turn directions, Uber, and all sort of things, which would not happen for a few years more, but certainly wouldn't have happened without this important decision.
I expect the wide availability of OCR to change quite a few things in how we do things.