To me it is pretty clear, but there are still sources that try to make it look like the environmental impact of an electric vehicle is higher than one equipped with an internal combustion engine.
Here are a couple of graphics that show the data, you may argue that the data is skewed, but you can be the judge.
First, there is the consumption, a Tesla is 4250 lbs, and makes the equivalent of 132mpg, your annual fuel cost is estimated in $550. In comparison, a regular Toyota Camry is 3310 lbs, makes 29mpg, your annual fuel cost is estimated in $2100. (Source: https://www.fueleconomy.gov/feg/Find.do?action=sbs&id=45721&id=46206).
Here is visualization of similar data: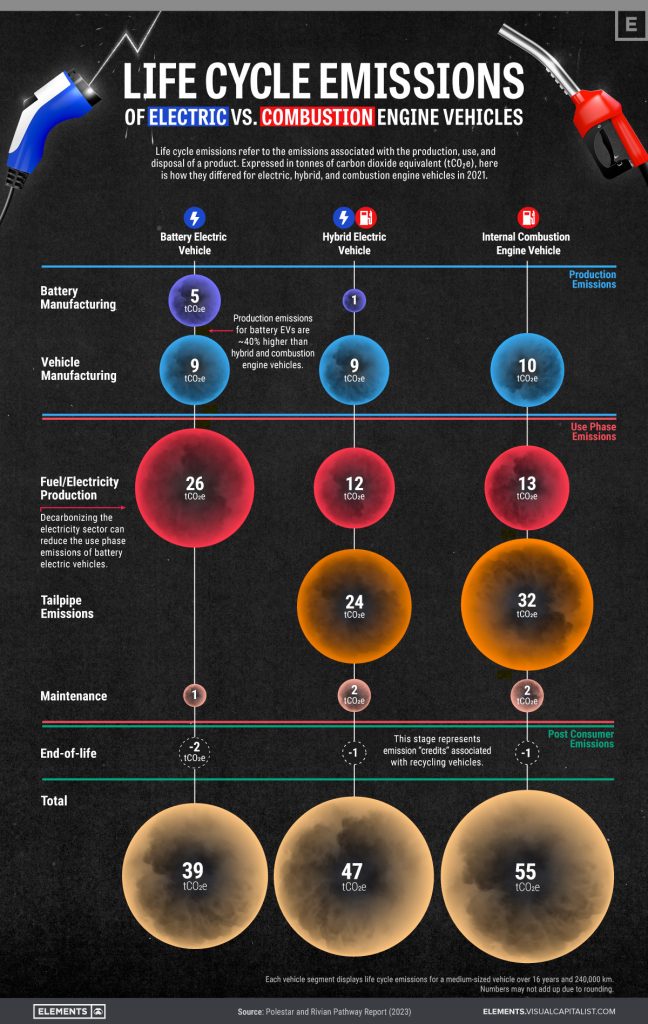 (Source: https://www.visualcapitalist.com/life-cycle-emissions-evs-vs-combustion-engine-vehicles)
Second, there is the argument of the energy itself being "dirty". Imagine that all your home appliances, your blender, espresso machine, microwave oven, toaster, would be powered each with Briggs & Stratton gasoline engines. Besides each of them being as loud as the guy with the leafblower that shows up when you are on an important call, they will NEVER be able to connect to a clean energy source, no matter where electricity comes to your house from. You need to have the right appliance to benefit from the upgrade.
Third, you have the argument about the materials. Mining rare-earths and other exotic materials to manufacture batteries is scarring the earth, and we should do everything possible and more in order to avoid or mitigate it, together with the human drama that comes with it, but the truth is that the biggest component of any vehicle, is steel.
Here is another graphic showing what are they made of, but the steel part is not even listed.
(Source: https://elements.visualcapitalist.com/evs-vs-gas-vehicles-what-are-cars-made-out-of/)
Most of the vehicle's weight is the steel for the frame, the suspension, brakes, etc., and the body. Out of the 3,000 lbs of weight of a Camry, probably more than 2,000 are steel, and making of steel is highly energy demanding. Steel production is the most energy-consuming and CO2 emitting industrial activity in the world. Today, 75% of the energy comes from burning coal, and requires large inputs of coke (a sort of coal).
The mining of iron ore and the coking process causes water pollution of heavy metals, acid, carcinogenic organic compounds as well as cyanide, sulfides, ammonium and ammonia. 1.83 tons of CO2 are emitted for every ton of steel produced, and there are long-lasting effects for steel production, for example, the "Iron Mountain" is a Californian mine that was shut down in 1963, it will pollute nearby waters for at least another 3000 years though.
(Source: https://www.theworldcounts.com/challenges/planet-earth/mining/environmental-impact-of-steel-production)
So? We are not there yet. Do I think these are steps in the right direction? Absolutely.