As we peer into what synthetic minds will bring to us, perhaps it would be useful to better understand and utilize our own. Particularly in today's day and age, with the constant stream of distractions that we face, this seems to come down to focusing on the right things. After all, no matter what we do, we cannot create more than 24 hours in a day. To achieve more, the only thing that we can do is first, put in as much energy as we have (if you are the engineering type, in physics, more energy, during the same time, means more power, but also means more "work" done), and second, concentrate on the right things.
Then there is the whole issue of leadership, and getting things done through others, but the choice of leading vs. doing, is also a choice of "working on the right thing".
But how do we figure this out? In the noisiest world we have ever lived, and with dozens of different priorities coming at as, even Stephen Covey may get sidetracked.
Well, here is a tool that I discovered many years ago and that I have found invaluable for setting up priorities, especially when initially tackling complex projects that can feel daunting at first.
Enter "Mind Mapping".
Wikipedia defines it like "a diagram used to visually organize information into a hierarchy, showing relationships among pieces of the whole", and in its simplest form, it starts with a main idea at the center of the diagram, and breaking it down into its immediate components. As you move off the center, you can continue to add more and more detail to each of its primary components.
The biggest advantage of a mind map, is that it allows to easily concentrate at the level of detail necessary at each critical decision, it also allows to concentrate on a particular topic in isolation without getting distracted, and as an added benefit, many times can be used to define clear delegation paths.
Here is how a mind map would look like for your weekend's dinner party: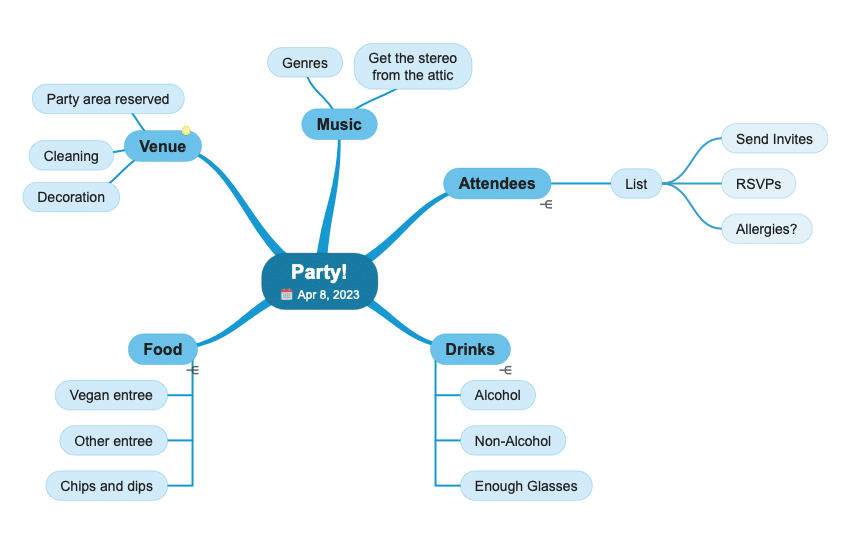 If you concentrate only on the dark blue bubbles, you can ask yourself, "am I forgetting something" and you may come to the realization that you also want to include some entertainment, perhaps a game that you play to break the ice. By contrast, when you are looking at what you need in terms of the venue, you are not being distracted by the fact that you have ran out of Angostura bitters for that Pisco Sour you were planning to mix.
It is a fantastic tool indeed and current tools that allow you to do mind mapping on your computer or tablet, have added functionalities like being able to collapse the level of detail, move branches without having to re-do them, and even define hyperlinks associated to any node. For example, you could have a list made in spreadsheet of all the attendees linked to the "list" bubble, and an evite link on the "send invites" one.
I have seen people get really creative with mind maps, decorating them to their liking. I even met a guy once whose whole way of taking notes was through mind maps!
Here is website solely dedicated to beautifully done mind maps: