In my consulting practice, I have seen repeatedly how some companies insist in over-complicating their go-to-market motions to compensate for completely inadequate pricing models that they have placed on their products or services.
Best explanation I can come up with is that their pricing has been set arbitrarily at some point by one of the methods taught in Business class or this blog post, never to be revisited again. Let's put that aside for a while and take a stroll around what is the role of each price. I have to say that I am no pricing expert, and that this may be pretty basic stuff for most of you, but bear with me a minute.
List Price
This is the price that is generally published and available for most people to see. List price is more than just a number on a piece of paper or an Excel spreadsheet. For the buyer, it does a few things.
First of all, it communicates value. It is aspirational. This is why some luxury goods have exorbitant list prices. If you see a Louis Vuitton purse for $30, it is probably fake, Or isn't?
List price also establishes a "starting point" for any negotiation process. This is also called an "anchor".
In this sense, the list price has to be set to the right level. If a list price is set too low, there is the risk of leaving money on the table in the negotiation process, but even worse than that, it may be pricing the product or service in the wrong category, and still look way too expensive, even though it is a steal.
Street Price
This is the average price at which the product or solution is actually sold at. Street price is the "real" price. Not just because it is what is paid in reality, but also because it follows the real definition of price: the one where supply and demand meet and agree upon.
Partner's price
In a classic reseller model, partners get a discounted price. This pricing is generally set relative to the list price. Non-compete legislation, and to avoid any suspicion that there is any "vertical integration", prevents companies from dictating how much resellers can sell their products for.
So the price at which partner's purchase products and services, is very often specified as a percentage of the list price and the Reseller is allowed to sell the product for any price their consider fair. Hence the reason why frequently the List Price is labeled the "Manufacturer's SUGGESTED Retail Price".
Now let's address the elephant in the room:
Most of the problems arise when list price is way too high compared to street price. This could be motivated by excessively high pricing that is completely out of touch with reality and way above what the market is willing to pay for the product or service. Some degree of this, together with sales organizations that are just way too eager to award discounts in order to win business, drive street price down.
A wide spread between list and street price, most often make the Partner's price completely meaningless, as the partner would be outpriced of deals every time. Mostly, this renders any programmatic approach of go-to-market or partner model, meaningless; and it eventually requires to individually touch every deal.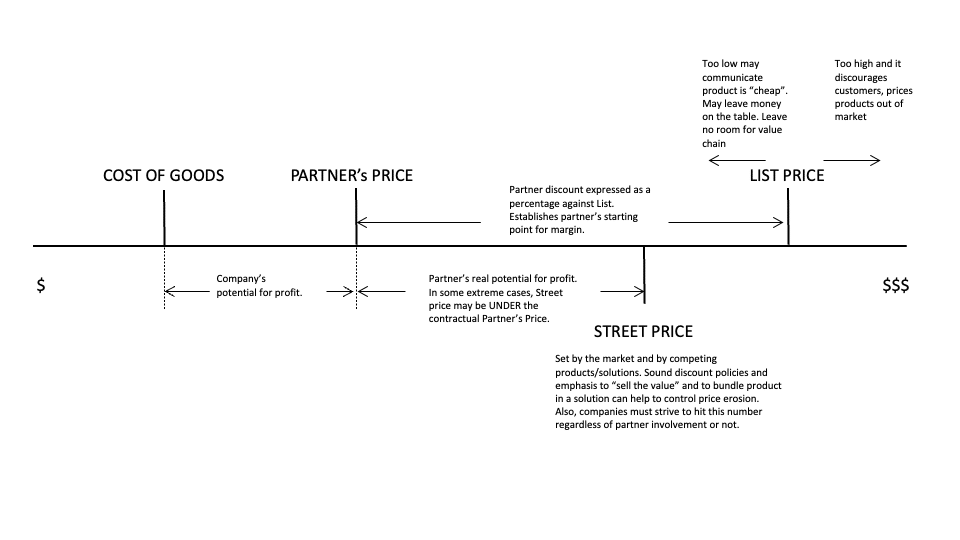 The result is:
Inoperative partner program landing
Individual, time consuming, case-by case pricing
Impossible to have run-rate business
Therefore, the full value of partnering is not realized
Invariably, the great majority of the people that works in the organization avoid addressing the issue because it is way too political. Questioning the pricing, or the model utilized to set it up, is considered heresy.
In some cases, bold leadership gets over these issues and a completely new rebirth of the organization happens. Some organizations use their XaaS transformation as an opportunity to do so, but for most of them, they just stay playing the games that perpetuate the model and place more resources to manage the gap between list, street, and discounted price.