Exponential  Transformation
In this fastly-evolving landscape, it is necessary for yout business to stay competitive.
Exponential Transformation, is a strategic approach that allows companies to thrive in this age. Inspired by the groundbreaking concepts compiled in Exponential Organizations, it's not just about emerging technologies and trends, but about doing things differently and doing them exponentially better.
Why Exponential Transformation?
Contrary to what many business leaders think, maintaining the status quo is no longer an option. Agility and capacity for innovation are necessary for your organization to not only survive but to thrive.
By harnessing these changes creates a shift that goes beyond increasing efficiency – fostering a dynamic ecosystem where your organization can adapt, grow, and make a lasting impact.
Exponential Transformation Guide
Learn more about the ExO Transformation process, download now: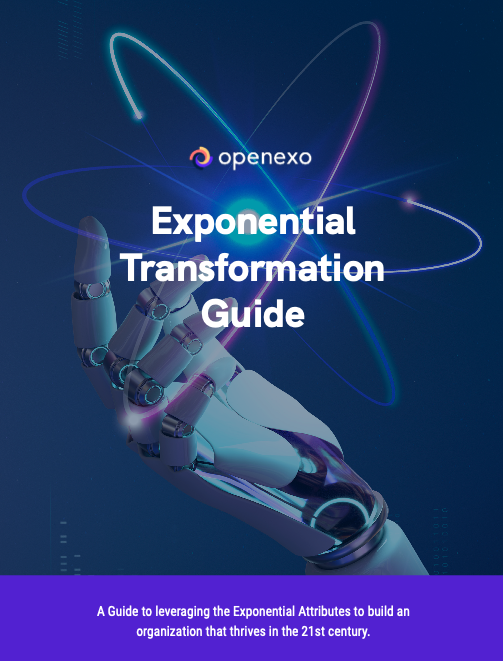 The Exponential Transformation Process
The Exponential Transformation process we follow is identical to what the original authors intended to and was designed to guide your organization on the path to exponential growth and success:
Assessment: We start by understanding your current organizational structure, culture, and goals. This initial assessment helps us tailor a transformation strategy that aligns with your unique needs and that allows for that magical 20% that gets you 80% of the benfits.
Define Your MTP: We work with you to articulate a clear and inspiring Massive Transformative Purpose (MTP) that not only drives your organization but also resonates with employees and customers.
Leveraging Technology: We identify the latest technological advancements that can propel your business forward, from AI and blockchain to IoT and more.
Data-Driven Insights: Harness the power of data to make informed decisions. We help you set up data analytics and reporting systems to drive real-time insights.
Cultural Shift: Foster a culture of experimentation, adaptability, and innovation to encourage your team to think outside the box and embrace change.
Implementation: We support you through the entire transformation process, ensuring a smooth transition and effective execution of your Exponential Transformation strategy.
Contact Us
Are you ready to transform your organization exponentially? Contact us today, and let's embark on this exciting journey together.